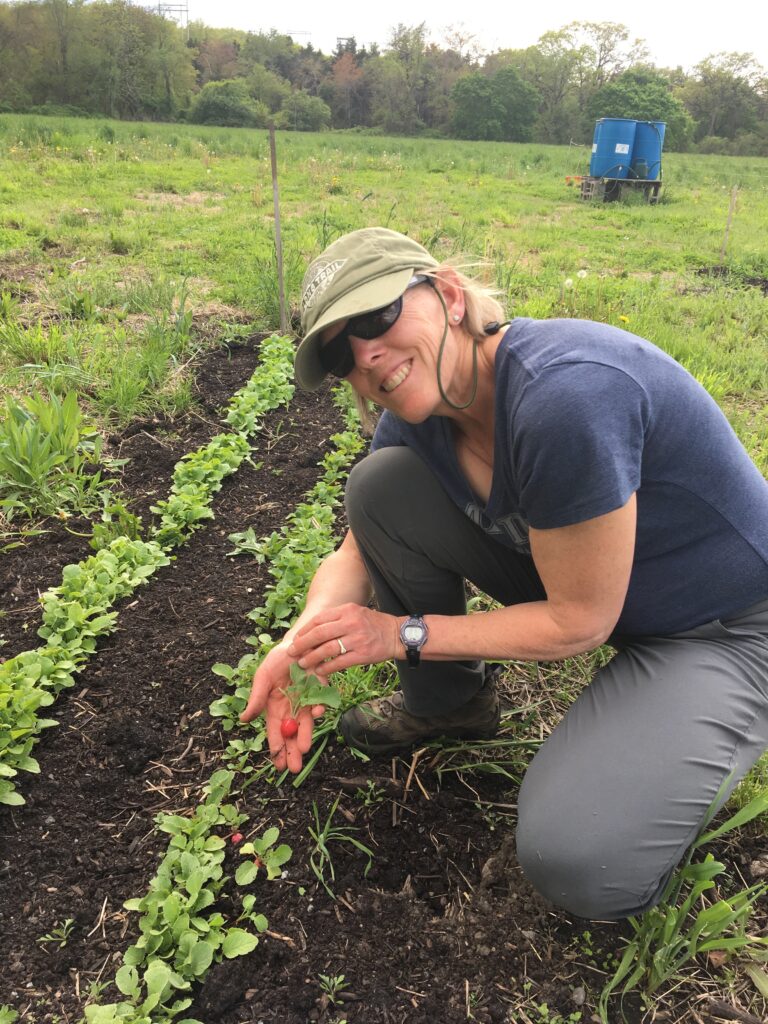 JEANNETTE MCGINN, DIRECTOR; PRESIDENT, BOARD OF TRUSTEES
Jeannette works alongside Newhall Fields' herbalist and farmer in the fields and develops our farm-based education programs. Jeannette got her start as an environmental educator and homeschool program leader at Mass Audubon, Ipswich River Wildlife Sanctuary. Jeannette is a Principal Master Gardener, and a Peabody Park Commissioner. She holds an M.S. in Ecological Teaching and Learning from Lesley University.
When not at the farm, Jeannette loves to spend time outdoors, cook new dishes with fresh produce and herbs, explore on long walks with her dog Leo, and finds joy in the time she gets to spend with family and friends. But most of all, she is continuously inspired by the enthusiasm and love Newhall Fields' volunteers have for the farm and their kindness and support for each other.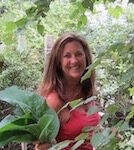 REBECCA INGALLS, HERBALIST
Rebecca is the herbalist and perennial grower at Newhall Fields. She designed and led installation of the Herb Garden in 2018 and remains its curator and lead cultivator, holding workshops and overseeing the  herb garden volunteer program each season. Rebecca's approach is holistic, moving within an ecological web which strengthens diversity and resilience. She is dedicated in her work as an herbalist and educator to cultivating beneficial and enduring relationships with the green world around us and to the alleviation of suffering. Rebecca is the owner and founder of Swampscott Counseling and Palmer Pond Botanicals in Swampscott, Mass.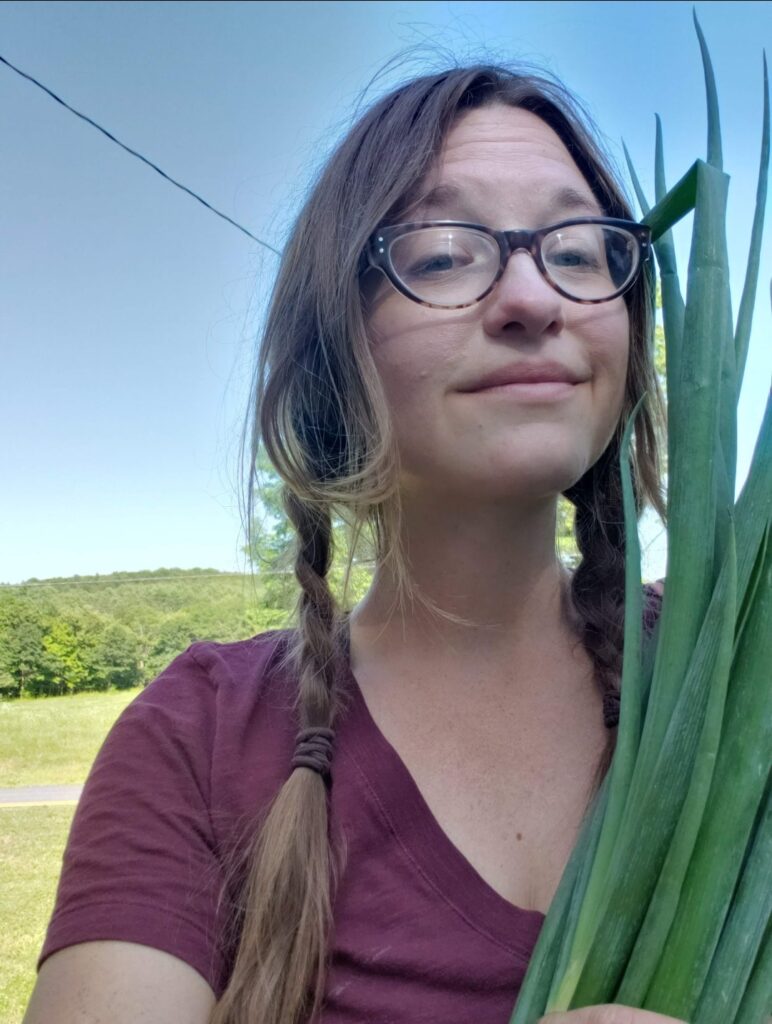 CHRISTINE (CJ) HUGHES, FARMER
CJ is the head farmer at Newhall Fields Community Farm. A bartender turned florist turned farmer, CJ discovered her love for agriculture while attending an intensive residential practicum program in Mendocino, California. Ever since, she knew she wanted to improve the food system on a local community level, and help close the food gap by making local fresh produce more available to those who need it. She spent four years working on Organic vegetable farms in the Upper Valley area of Vermont, where she expanded her knowledge of production farming; became a greenhouse manager and CSA enthusiast. She is thrilled to have relocated to the North Shore and become part of the team at Newhall Fields. She hopes to continue engaging with the community of Peabody, educating people on the joys of vegetables, and growing as much food for people as possible. When she isn't farming, she loves to find cows and donkeys to pet, draw and craft, sample local baked goods, and sit by the ocean.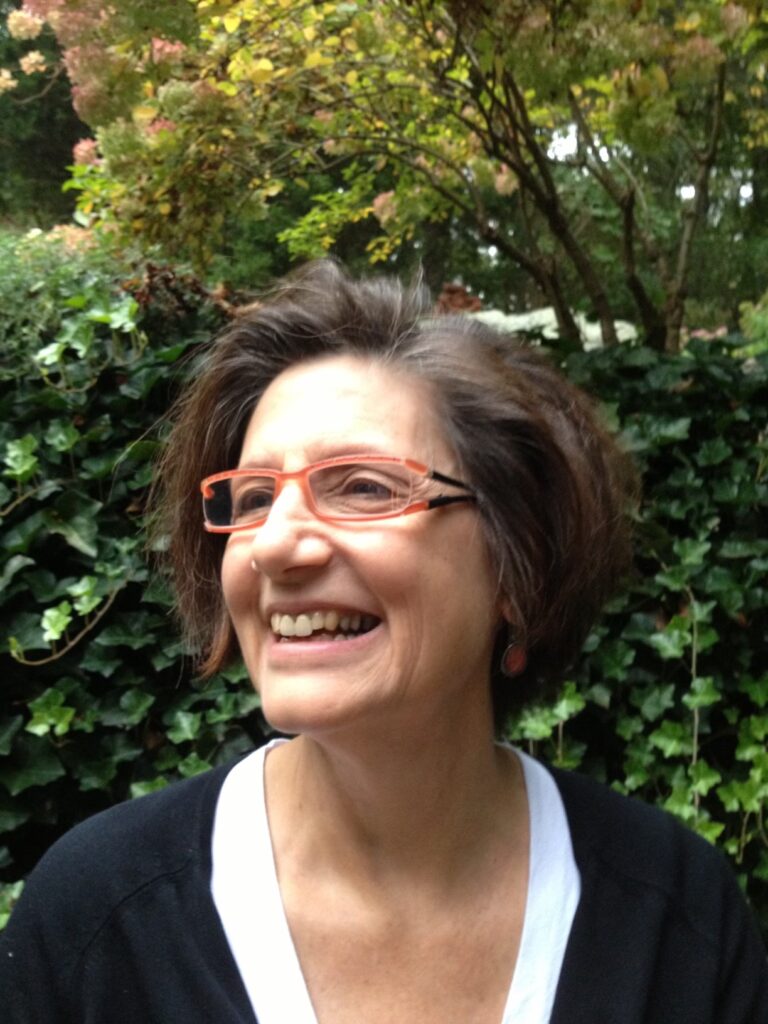 ELIZABETH GOURLEY LAHIKAINEN, VICE PRESIDENT, BOARD OF TRUSTEES
Elizabeth (Betsy) Lahikainen has a lifelong interest in gardens and nutrition. Her high school summers were spent tending the gardens on a large estate in her hometown of Pittsburgh, Pennsylvania, and today continues to annually plant vegetable gardens at her home and at the local Community Gardens in Salem.  
Her professional and business experience includes running her own textile conservation business for more than twenty years, Elizabeth Lahikainen & Associates. Specializing in historic upholstery, she was a pioneer in developing new techniques and materials to preserve historic upholstered objects. During her long career, clients have included major museums and private collectors.  Prior employment included working at Historic New England's conservation center in Waltham, MA and at the Merrimac Valley Textile Museum in North Andover, MA, where she helped establish their first conservation laboratory.
Elizabeth's non-profit experience includes being the founding president of the Salem Education Foundation and is a past co-chair of Voices Against Injustice and has served as a trustee of the House of the Seven Gables, two organizations dedicated to helping cultivate connections and support for underserved communities.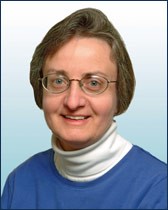 DIANE DUBE, NUTRITION CONSULTANT; MEMBER, BOARD OF TRUSTEES
Diane is a Registered Dietitian Nutritionist/Certified Diabetes Care and Education Specialist with North Shore Physicians Group and Family Doctors in Swampscott, MA. She also owns her own business doing nutrition education and consulting. Diane has degrees in food science, nutrition, and counseling. Diane is a member of the North Shore Physicians Group Health Equity Committee, which actively addresses food insecurity issues on the North Shore. In addition, she is involved in the Food As Medicine initiatives on the North Shore, collaborating with colleagues and others in the medical community to bring healthy eating to the forefront in preventing and managing chronic disease. She loves to share her knowledge of preventative nutrition and healthy eating with all!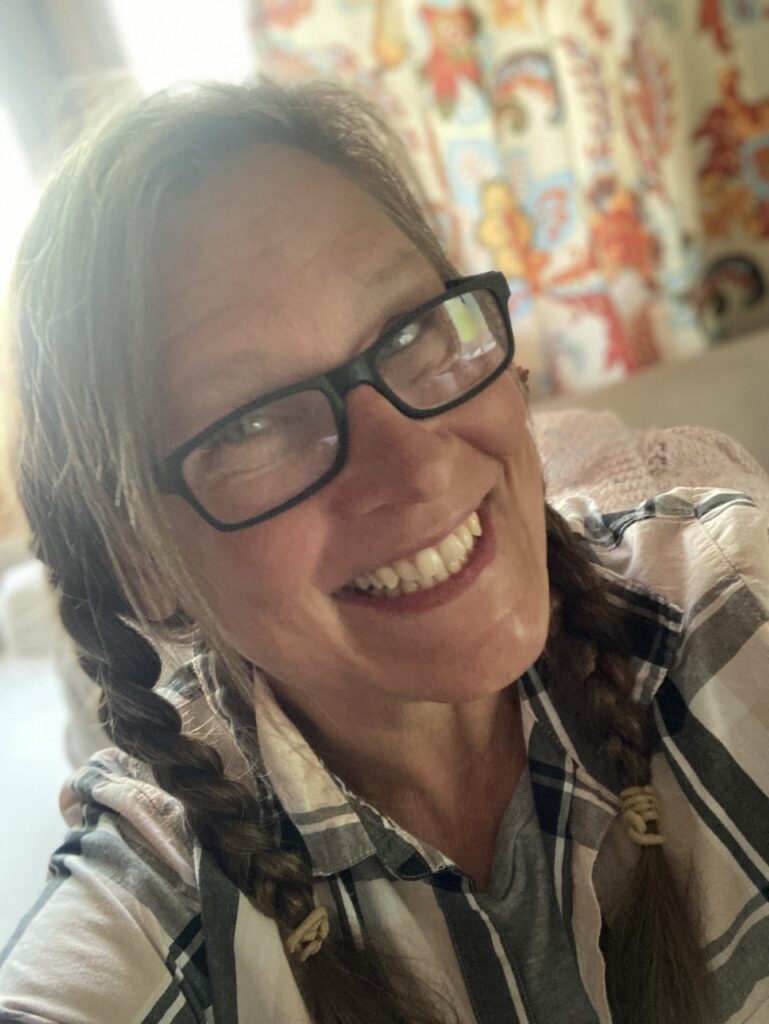 STEPHANIE JOHNSON, COMMUNITY OUTREACH; CLERK, BOARD OF TRUSTEES
Stephanie has always been a connector – a connector of people, a connector of ideas, and a connector of communities. Through her volunteer work in the Rotary Club of Peabody, she was introduced to the farm and its incredible staff. She knew she needed to find a way to connect this incredible local hidden gem to other organizations that will help them continue to grow and reach new members of the community. She joined the board as a Clerk in 2022, allowing her to deeply connect to the mission of Newhall Fields. Her day job is as a Development Assistant for Citizens Inn, which continues the theme of community connections.
Stephanie doesn't only support the farm as a board member. She and her husband Bob volunteer regularly and literally and figuratively getting their hands dirty to bring nourishing food from the farm to your table. They especially enjoy volunteering in the afternoons when they get to enjoy the beautiful sunsets that accompany their time outside, while their daughter Kelsey travels the world bringing love and light to others.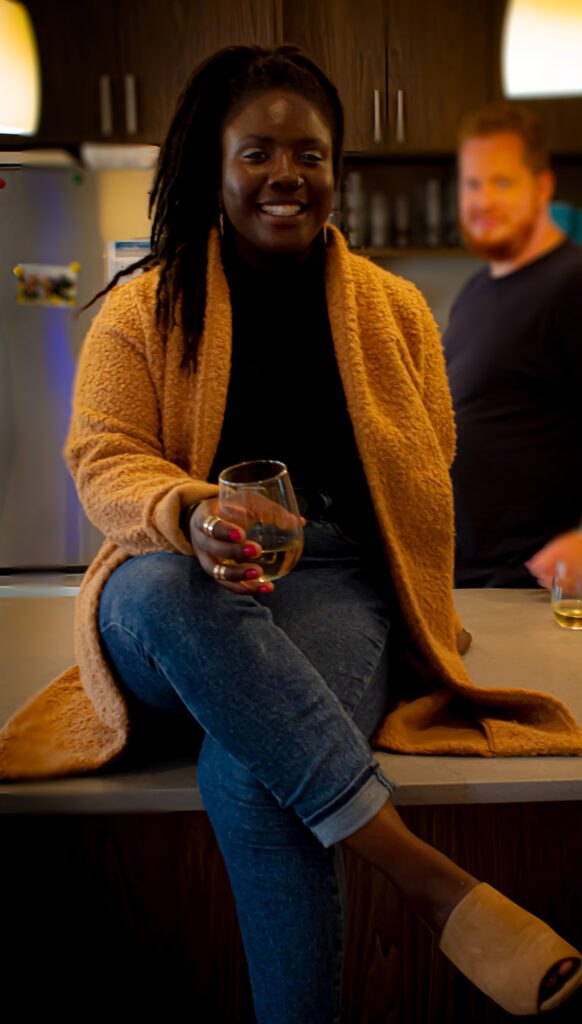 DAYBAR BUGLER, SOCIAL MEDIA MANAGER
As the social media manager Daybar helps develop and administer social media content designed to engage our online community and create an interactive relationship between our followers and our nonprofit.
Daybar is The co-owner of a Food and Beverage podcast Turned Monthly newsletter Called Eat Drink Explore. She spent many Thursdays at the farm volunteering her time in 2020 and officially joined the Farm team later that year. The farm has been a great way for her to connect with another part of the food and beverage industry while growing food for her community. 
Day loves Eating, Drinking, and Exploring New England with her Husband Phil and their three-year-old son Philip IV in her free time.
THE BOARD OF TRUSTEES
The four Newhall Fields Trustees work in collaboration with the City of Peabody and community volunteers to plan for agricultural management and growth potential to meet the ongoing agricultural, educational, and food scarcity needs of the greater Peabody area.